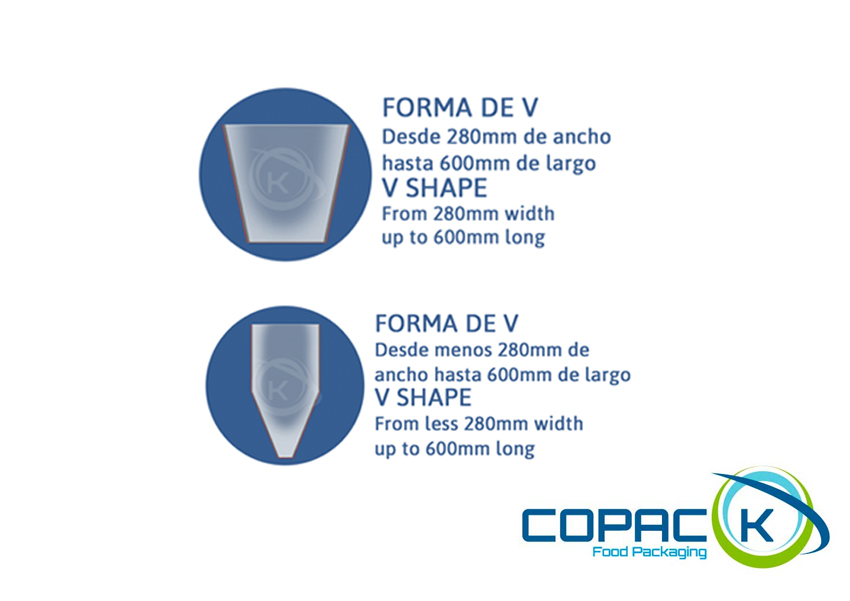 V shape V-shaped shrink vacuum bag. An ideal container.
The V-shaped retractable vacuum bag is a versatile application container, it is perfect for the presentation of cured or semi-cured cheese wedges such as Parmesan cheese, Manchego cheese and other types of cheese, but also for portion packaging individual pizza, for example.
This Copack container is manufactured in different sizes; from 280mm or less than 280mm wide to 600mm long.
Kid or lamb legs packaged in the V-shaped bag will look attractive to the customer's eye since they are manufactured with shrink film that allows the shape to be highlighted, a better presentation that distinguishes and demarcates the product from others packaged in other types of packaging.
In addition, Copack has specific shrink film for each type of product.

For example; for bone-in meat, the containers are made of highly puncture-resistant material; For cured and semi-cured cheese, since due to the ripening process these cheeses release gas, the bags are made with a film that allows the cheese to breathe once packaged, releasing the gas to avoid the formation of an air bubble in the packaging, but at the same time protects the cheese from any external contamination.
Another possibility that Copack offers with this type of container, the V shape container for cooking and sterilization, for this Copack has 2 different qualities: 1h at 95ºC or 6h at 80ºC and 6h at 100ºC or 12h at 70ºC.
Functionality, presentation of the packaged product, conservation, protection from external pollutants, savings in wastage in the packaging process, are the advantages offered by the V-shaped V-shape shrink vacuum bag.
Copack containers provide practical, specific and quality solutions.