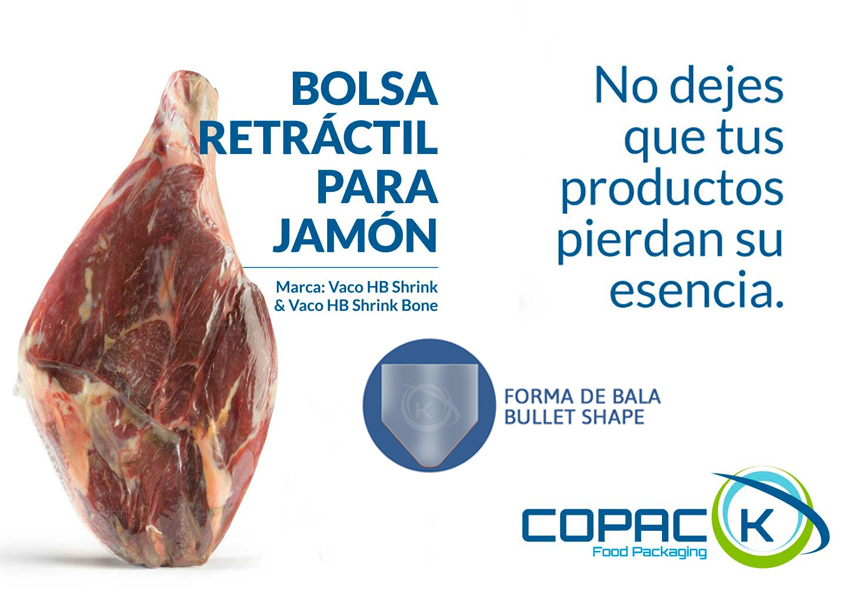 The Vacuum Bag for Whole Hams
Serrano ham dates back to the time of the Celts where the pig was a basic food product, it became an object of worship and placed among its main and most valued merchandise. Later in Roman times, the ham is considered as the most valuable, juicy and tasty part of the pig that was reserved for the wealthy classes. Specialized cooks called "vicarius supra dinners" came to exist for the production of hams and other sausages, the importance of the cured ham trade was such that at the time of Augustus and Agrippa Roman coins were created in the shape of a ham tip. In the Middle and Modern Ages, pork continued to be consumed in abundance, giving great importance to cured ham.
In the 19th century and the middle of the 20th century, thanks to the development of the technique for the production of meat products and the impulse of industrialization, Serrano ham reached its splendor.
Our Serrano or Iberian ham is a source of minerals, vitamins and proteins that has become a staple of the Mediterranean diet. It is currently exported throughout Europe, China, Japan, the United States ... where it is highly appreciated and considered a delicacy.
In Active Packaging Copack we have the right packaging to preserve all the qualities of cured ham, the special bullet-shaped vacuum bag for packaging whole bone-in hams.

The advantages of the bullet-shaped vacuum bag from Copack are:

-Avoid oxidation since the bag allows, through the emptying technique, to extract all the air from the container.
-By not being in direct contact with the air, the ham maintains a uniform distribution of fat through the muscle fibers and the juiciness of the meat.
-Prevents loss of aroma, keeps color intact.

Other advantages of Copack's bullet-shaped vacuum bag is that it facilitates the transport and distribution of whole hams, a hygienic solution for export.
A noble product such as Serrano ham or Iberian ham deserves a specific packaging, an added value to the care and presentation offered by Copack's bullet-shaped vacuum bag active packaging.